Top 5 Winter Driving Tips
November 2022

It's never too early to start preparing for winter driving conditions. Long before the first snowfall, you'll want to make sure your car is in top condition and well stocked with emergency supplies. Taking a few thoughtful steps before you get on the road can save you a lot of time and trouble in the long run.
Winter is also a time to consider more
thoughtful driving conditions
. Roads can be hazardous. According to the US Department of Transportation Federal Highway Administration,
21 percent of all vehicle crashes are weather related
.
1
So give yourself extra time to get where you need to go and make sure you have what you need to wait out a storm or traffic jam if that becomes necessary.
Here are our top tips for taking on winter safely:
1.Get to know your car's strengths and limitations
Be in tune with how your car responds in the snow. Sure, features like antilock brakes and all-weather tires are helpful, but every car performs differently. Take advantage of a snow day and get a feel for how your car responds. Find a nearby parking lot and practice stopping, starting, and turning.
Here's an important detail to keep in mind as you prepare to set out into winter weather. When you check the day's temperature, what you're actually getting is the temperature from about five feet above the road's surface. Why does that matter? It matters because the road surface can actually be a few degrees colder than the air. That means even if you see an outside temperature of 35°F to 37°F, there could still be frost on the road. So be wary any time you drive when the air temperature is 37°F or lower.
2. Prepare your vehicle for winter
Use our winterizing checklist to make sure your car is up to speed and ready for all kinds of conditions.
Cold weather can affect a battery's performance. Check it before the temperature drops.
Change your oil and filter and make sure your wiper fluid contains antifreeze.
Replace your windshield wiper blades if you haven't done so recently. Visibility is key in winter weather.
Your tires should have a good tread and be inflated properly. Consider winterizing your car with snow tires.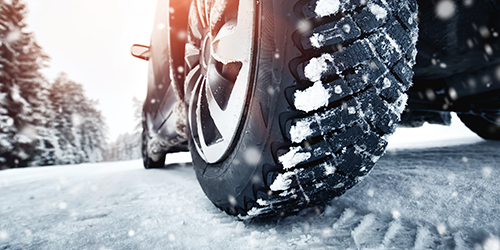 3. Keep these winter driving supplies in the car
Always prepared isn't just a motto; it's a smart way to take on winter. In addition to our
list of emergency items
to carry with you in the car, we also recommend a shovel, a bag of salt or kitty litter, and a blanket to help you get your car unstuck and back on the road.
4. Use caution when behind the wheel
An ounce of prevention is worth a pound of cure when it comes to planning a driving trip in the winter. Being in a hurry on a snowy or icy road is a recipe for disaster. Take your time and arrive safely. Leave more distance between you and other cars. Be careful when driving over bridges and overpasses as they can be icy.
5. What to do if you get caught in a storm
If you find yourself driving in bad weather, remain calm and take your time. Stay tuned to weather reports. Think smart. It's perfectly OK for you to seek shelter while waiting for the storm to pass.
Weather the Winter Safely
In addition to your car, think about
preparing your home for winter
too. With a little thoughtful planning, you'll be ready to handle whatever Mother Nature dishes out.
---